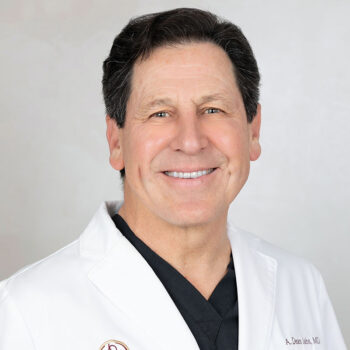 Board-Certified Plastic Surgeon

A. Dean Jabs, MD, PhD, FACS
Dr. Dean Jabs is an experienced, Columbia University College of Physicians and Surgeons trained, board certified plastic surgeon dedicated to providing quality, state-of-the-art plastic surgery to patients in the Maryland-Virginia-Washington, D.C. metro area as well as to patients from around the world. He has been in practice since 1989 and possesses skills that have led to thousands of happy patients. Dr. Jabs performs all aspects of cosmetic plastic surgery and has special expertise and interest in natural-looking facelifts, eyelid rejuvenation, and breast augmentations.
Dr. Jabs is noted for his warm, personal demeanor and passion for the details of cosmetic surgery that lead to extraordinary results. Establishing a personal relationship that allows him to understand his patients' concerns and desires is a key part of his consultation process. His outgoing personality and outstanding surgical skill have led many local physicians and their families to seek his care.
He is Board Certified by the American Board of Plastic Surgery and is a Fellow of the American College of Surgeons (FACS). He is also a member of the American Society of Plastic Surgeons (ASPS), The American Society for Aesthetic Plastic Surgery (ASAPS), and the Southeastern Society of Plastic Surgeons. He also holds the prestigious Certificate of Added Qualification in Cosmetic Surgery from the American Society of Aesthetic Plastic Surgery.
Dr. Jabs has been selected by Washingtonian, Bethesda, and Northern Virginia magazines as a top plastic surgeon as well as being cited for compassionate care. The Consumer Research Council of America lists him as one of America's Top Surgeons. He is also listed in America's Cosmetic Doctors Consumer Guide and has been featured in articles in The Potomac Gazette as well as Plastic Surgery News.
Dr. Jabs was elected President of the National Capital Society of Plastic Surgeons by his local plastic surgery colleagues, where he previously served as Secretary and Vice President. At the national level, Dr. Jabs served on the International Committee of the American Society for Aesthetic Plastic Surgery and has served as Chairman of the Dept. of Plastic Surgery at Johns-Hopkins Suburban Hospital in Bethesda, MD.
Dr. Jabs is a California native and graduated from the University of Southern California before pursuing graduate work at the University of Illinois in Chicago where he received a Ph.D. in Immunology. He attended Rush Medical College in Chicago, obtaining his M.D. in 1984, followed by training in general surgery at St.Vincent's Hospital in New York City and  plastic surgery training at Columbia University before moving to the Washington, D.C. area.
Dr. Jabs has authored several papers on plastic surgery topics and has presented at major national meetings of plastic and cosmetic surgeons. His most recent paper dealt with a new technique to markedly reduce post-operative pain and narcotic use in breast augmentations. He is on staff at Suburban Hospital in Maryland and Fairfax Hospital in Virginia. He is an Assistant Clinical Professor of Surgery at the Uniformed Services University of the Health Sciences in Bethesda and has held academic appointments at the University of Connecticut and Columbia University in New York.
Dr. Jabs is a committed family man. He is married and has three children. He has gone on medical missions to Haiti and Guatemala where he treated children with cleft lips and palates, burns, and other facial deformities. He has been cited by the Children of Chernobyl Committee of Christ Church for his work on behalf of the Children of Belarus.
Dr. Jabs stays up-to-date on the latest surgical techniques by attending meetings, reading journals, and visiting colleagues around the country. He is proud to have served in the United States Army at Walter Reed Army Medical Center where he was a Major in the Dept. of Plastic Surgery for three years, including the first gulf war, Desert Storm.
6430 Rockledge Drive
Suite 100
Bethesda, Maryland 20817
Learn More