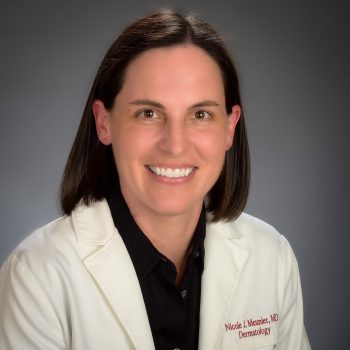 Board-Certified Dermatologist

My patients need to understand their diagnosis and my recommendations. I place a special emphasis on explaining the cause, expected course, and treatment options of skin conditions to patients so they can feel fully informed and involved in the decisions that directly impact their health.
Education

Undergraduate Degree:

Harvard College – Cambridge, MA

Medical School:

University of Hawaii, John A. Burns School of Medicine – Honolulu, HI

Dermatology Residency:

Naval Medical Center – San Diego, CA

Certificates

American Board of Dermatology

Professional Memberships

American Academy of Dermatology

Publications

Meunier N, Zaleski L. Pseudoxanthoma Elasticum: report of a case with a novel gene mutation. Dermatol Online J. 2016 Jun 16; 22(6).
Meunier N, Zaleski L, Bloom D, Steger J. Treatment of Dissecting Cellulitis of the Scalp and the Use of Marsupialization: A Review. J Dermatolog Clin Res. 2014 2(2): 1015.
Meunier N, Zaleski L, Laird J. Silvery White Hair in a Newborn: A Case of Griscelli Syndrome from Paternal Uniparental Disomy. J Dermatolog Clin Res. 2014 2(4): 1028.