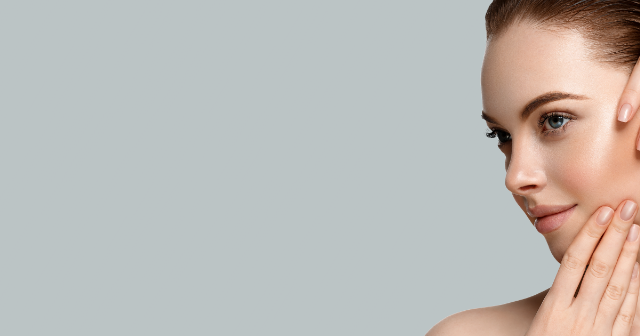 RHA Dermal Fillers
in Greensburg, PA
RHA line of fillers
easily adapt
to facial movements
Hyaluronic acid
is a natural
component of skin
Most patients feel only
a mild pinch
during treatment
Results can last
15 months,
longer than other fillers
What Are RHA Dermal Fillers?
The RHA collection is the latest advancement in dermal fillers—RHA stands for Resilient Hyaluronic Acid. These unique fillers contain hyaluronic acid gel and are designed to mimic the natural hyaluronic acid produced by the body. Developed in Switzerland and popular throughout Europe, the RHA line of fillers are only available at select practices. Forefront Dermatology is proud to be one of the exclusive clinics offering RHA fillers.
REQUEST NOW
How Is the RHA Collection Different From Other Hyaluronic Acid Fillers?
Hyaluronic acid is a common component in most dermal fillers, including Restylane and Juvederm. The RHA collection is unique because it is the only hyaluronic acid-based dermal filler approved by the FDA for the treatment of dynamic wrinkles, which develop over time due to repetitive facial expressions, such as smiling, laughing, frowning, and squinting. These types of wrinkles are difficult to treat effectively with traditional gel fillers because they often cause your skin to appear stiff or unnatural when making facial expressions.
Unlike other dermal fillers, the hyaluronic acid in the RHA collection is gently processed with fewer chemical modifications. This process helps preserve the natural structure of the hyaluronic acid, making it nearly identical to the hyaluronic acid produced by your skin. As such, the RHA line of fillers stretch and easily adapt to your facial movements. This results in a softer, more natural look while your face is in a resting position and when laughing, smiling, or frowning.
Why Choose Hyaluronic Acid Gel Fillers?
What Are the Treatment Areas for RHA Fillers?
RHA fillers are designed to enhance facial volume and help your skin appear more youthful. These fillers are used to enhance the natural shape of your lips and can fill and contour your cheeks. They're also designed to treat mild-to-severe dynamic facial wrinkles and folds, including:
Expression lines around the mouth
Nasolabial folds
Marionette lines
Chin lines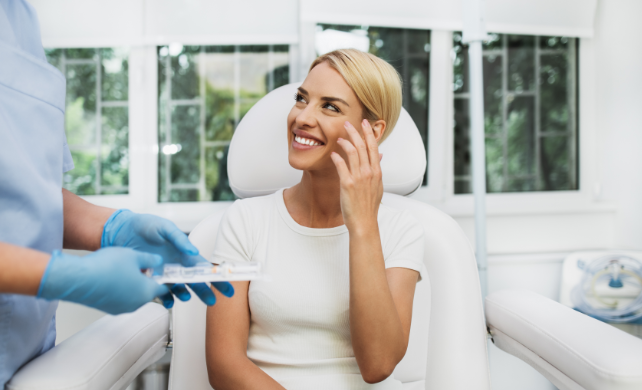 What Happens During an RHA Treatment Session?
Since there are three different formulations available, your Forefront dermatologist will help you determine which option is best for you. To make sure that you are comfortable during treatment, your Forefront dermatologist can apply a topical numbing cream to the treatment area. Each filler in the RHA collection contains lidocaine, ensuring the most comfort possible for patients. Your provider will use a thin needle to inject the hyaluronic acid gel into the targeted treatment areas. Most patients feel only a mild pinch during treatment.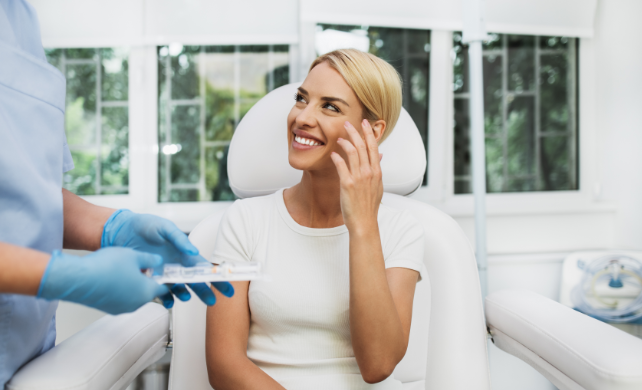 The number of injections you receive depends on the size of the treatment area. A typical treatment session takes about 30 minutes. Since there is not a significant downtime or recovery period, you'll be able to resume your normal activities immediately after your treatment session. However, it is recommended that you refrain from strenuous activity for 24 hours. As with any injections, you might experience some mild redness, swelling, or bruising at the injection site, but this is only temporary and will subside after a few days.
When Can I Expect to See Results From RHA Fillers?
Your results from RHA cosmetic fillers are immediate, and you'll continue to see noticeable results over the next several days as swelling diminishes. The hyaluronic acid in RHA is designed to adapt to and move with your facial movements, so you won't have to worry about having a stiff or unnatural appearance when making facial expressions.
Since the hyaluronic acid in the RHA collection closely resembles the hyaluronic acid made by your body, it takes longer for the product to break down. This helps you enjoy natural-looking results that last longer than traditional fillers, with results lasting approximately 15 months.
You'll need to receive another treatment after this time to maintain your more youthful appearance. Your dermatologist will design a treatment plan that best meets your specific goals, and you can schedule your next treatment session as needed.
Schedule Your Consultation
Want to learn more about the RHA collection of fillers? This treatment option is offered at many of our Forefront Dermatology practice locations. Our board-certified dermatologists will discuss the available treatment options with you and help you choose which option in the RHA collection best meets your aesthetic goals. Schedule your consultation today.
1 Location in the Greensburg, PA area
Interested in RHA Dermal Fillers? Request a consultation with a skin specialist today.
*Treatment options may vary at each location.
Please confirm your desired treatment is offered at your preferred location when scheduling.