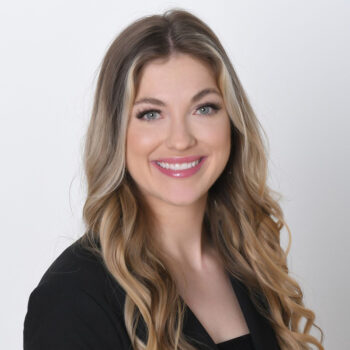 Aesthetician

Kourtney Dochterman
Kourtney is a passionate licensed aesthetician with a deep love for skincare and a genuine desire to help her clients achieve radiant and healthy skin. With years of experience and a commitment to staying up-to-date with the latest advancements in the field, Kourtney has honed her skills and loves meeting with new clients to provide skin care consultations to find the treatment right for your goals.
What sets Kourtney apart is her unwavering dedication to educating her clients about skincare. She firmly believes that knowledge is power when it comes to achieving optimal skin health, and she takes great joy in sharing her expertise. Kourtney approaches each client interaction as an opportunity to not only provide top-notch skincare treatments but also to teach them about proper skincare routines, products, and techniques tailored to their specific needs.
Kourtney's warm and empathetic nature instantly puts her clients at ease. She takes the time to listen attentively to their concerns, goals, and preferences, understanding that every individual's skincare journey is unique. During each session, Kourtney employs her vast knowledge of skincare techniques and cutting-edge products to deliver exceptional treatments. Whether it's a rejuvenating facial, a targeted chemical peel, or bringing your lashes to life, she approaches each step with precision and a gentle touch. Her meticulous attention to detail ensures that her clients leave feeling refreshed, rejuvenated, and confident in their skin.
Kourtney specializes in:
Customized facials,
Lashes and brows – both tint and lifts
Skin care consultations
BelaMD medical facial
Microneedling
Dermaplaning
Chemical peels
Outside of work, Kourtney loves spending time with friends and family and her five pets. She loves to travel to new places and try out new things.  She enjoys taking care of her plants at home, trying out new restaurants, and getting in a good workout.
Education

University of Northern Iowa

Capri College