Juvéderm® is made of
hyaluronic
acid gel
The Juvéderm® filler with
longest lasting
effect is Juvéderm® Voluma XC
In about
1-2 weeks
any side effects go away
Juvéderm® contributes to
volume & hydrate
the skin
What Is Juvéderm®?
Juvéderm® is the brand name for a collection of dermal fillers that are used to improve the signs of aging. Each Juvéderm® option contains hyaluronic acid and has a smooth, gel-like consistency. The different fillers are tailored to target specific signs of aging on the skin.
What Does Juvéderm® Treat?
Whether you want to plump, add volume, or smooth your skin, this line of fillers can help you achieve the results you're looking for. Treatment is designed to address a variety of facial aging concerns, including:
Facial wrinkles and fine lines
Wrinkles around the nose and mouth
Thin lips
Vertical lip lines
Sagging cheekbones 
and flat cheeks
REQUEST NOW
How Does Juvéderm® Treatment Work?
Juvéderm® works by increasing facial volume and reducing the signs of aging through its active ingredient, hyaluronic acid. This substance occurs naturally in the body and stimulates the production of collagen, which plumps the skin. Your skin produces less collagen and hyaluronic acid as you get older, increasing the appearance of wrinkles and sagging skin.
The filler is injected directly into your skin, replacing lost hyaluronic acid and improving facial volume and fullness. It also hydrates and smooths your skin, creating a more youthful look.
Juvéderm® Filler Types
There are several types of Juvéderm® fillers, and each is designed to target specific problems. These are the filler options you can choose from:
Vollure XC: This filler is designed to reduce the appearance of lines and wrinkles around the mouth and nose, including smile lines. Results can last up to 18 months.
Volbella XC: This is a great option if you're looking to add subtle volume to your lips or smooth vertical lip lines. A common off-label use for this injectable is reducing the appearance of dark circles. Results can last up to a year.
Voluma XC: This injectable is used to add volume under the skin. It can restore lost volume to your cheeks, fill out hollows or flat patches, and lift and contour sagging skin. Results can last up to two years.
Ultra XC: If you have naturally thin lips or if your lips have lost volume over time, Ultra XC can increase lip fullness, with results lasting up to one year.
Ultra Plus XC: This is a popular option for adding fullness to your lips and smoothing facial lines and wrinkles, such as nasolabial folds and marionette lines around your mouth. It's made of a thicker gel in comparison to Ultra XC, and results can last up to one year.
What Can I Expect During a Juvéderm® Treatment Session?
Once your dermatologist determines which type of filler is right for you, you'll receive instructions on what to avoid before your treatment. This includes aspirin, alcohol, and ibuprofen.
During treatment, your dermatologist will prepare your skin with an alcohol wipe. You might also receive a topical numbing anesthetic, but this isn't always necessary since the filler contains lidocaine. Using a fine needle, your provider will then make a series of strategic injections, molding the filler with their fingers to ensure a natural result.
Depending on the area being treated, your Juvéderm® treatment session will likely last between 15 and 30 minutes. You'll be able to resume most of your normal activities right away, but we usually recommend avoiding strenuous exercise for a few days after treatment.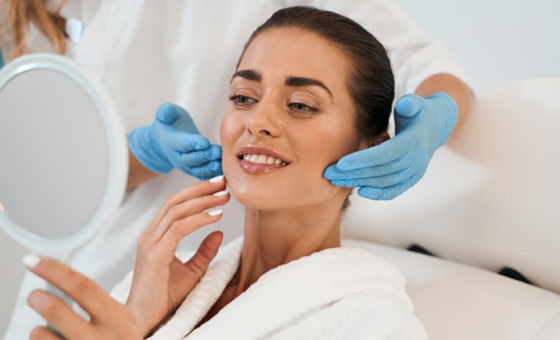 Are There Any Juvéderm® Side Effects?
Minor swelling and bruising at the injection site are the most common Juvéderm® side effects. You might also experience some skin redness or tenderness at the injection site. These effects are only temporary and will subside over time.
Serious side effects can occur if you receive treatment from a provider who isn't a specially trained medical professional. That's why it's very important to choose your provider wisely. Our Forefront dermatologists have the experience and training required to perform Juvéderm® treatment safely, so you can feel confident in the care you'll receive from our doctors.
What Results Can I Expect?
You'll notice some immediate results after your treatment session. Wrinkles and fine lines are smoothed and eliminated, and your skin will have increased volume and elasticity. If the injections were performed on your lips, they'll appear plumper and fuller, and you'll notice a reduction in the appearance of fine lines around your mouth.
Although some results are noticeable right away, you'll experience full results after about two weeks. This is how long it takes for any swelling or redness to dissipate. Depending on the type of filler you received, results can last from six months to two years. To maintain your more youthful look, you'll need to receive follow-up treatments.
1 Location in the Hudson, WI area
Interested in JUVÉDERM®? Request a consultation with a skin specialist today.
*Treatment options may vary at each location.
Please confirm your desired treatment is offered at your preferred location when scheduling.